I don't mean to be an alarmist.  And when I say "not ok," let' me clearly define that, so I don't receive a barrage of well-meaning and concerned DMs.
I'm not saying that I'm "muttering incomprehensible curses while fumbling with a bottle of klonopin" not ok.  Nor am I "throwing a long straw into a bottle of shiraz" not ok.  But I can admit that  I will be getting out of bed on the wrong side tomorrow. It's hard to know this, to sit with this, and to not feel in control of it.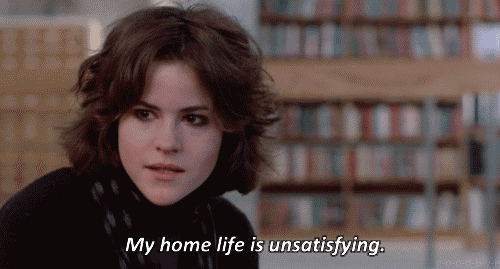 Things just happen to be pretty shitty right now. There's been great loss – and on a scale of 1-10 on the Positivity spectrum, I'm holding on tight with bloody, callused hands to the -2 portion of the rope.
Keep in mind, I am grateful, in my own complain-y way. I worked hard to get there, I work hard to be here.  But now I wholeheartedly recognize…that I don't want to stay here.
This all come with a clear acknowledgement I also have no idea where I want to go.  Hence, the paralyzing fear and self-doubt that causes me to stare into the abyss of my stirring herbal tea every night, until Alexa reminds me that I have food in my oven before I burn my apartment down.
My meh-ness is just quite simple, really – my own, incomprehensible personality flaw of always thinking/hoping/wishing that there was more. That life is too short – more creativity, more skill, more intellect, more story – is needed in my life. If there's one thing my life has shown me is that I don't settle.  So why am I settling?
Six and a half years in San Francisco – and I'm rethinking all of it. All of my choices that led me here.  And while I want this paragraph to end with "and I have no regrets," I also don't live in a Lifetime movie. I have regrets. Male ones, transcontinental ones, career ones. And at risk of sounding like Bradshaw as she peers down from her laptop over 63rd street, I have been asking this question a lot: "How did I get here?"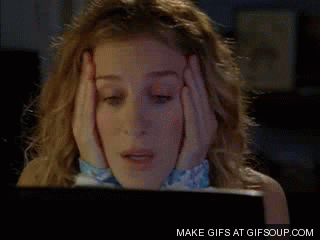 But I suppose that the answer to that question doesn't matter.  It doesn't matter how I got here, or where "here" even is – it's what I determine my exit strategy to look like. I have done better, I imagine better, and I see better within my grasp.
So, here I am pivoting. It's probably going to be a lot harder than getting a couch up a NYC walk-up. I've done that. I now hire moving men.  Because we learn.
And taking a few steps back doesn't mean I headed in the wrong direction.  It's just time to choose a different one. Like one of those "Choose your Own Adventure" books where you get to try on different scenarios.
So tonight's learning is that this present is unsatisfactory.  It's FINE.  But I have never done 'fine.'  I don't live in 'fine.' Or at least I choose not to anymore.